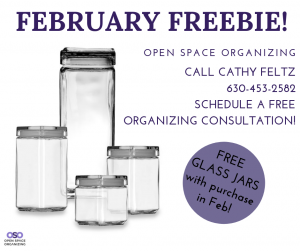 Welcome to February, organizers!  (Yes, I think all of us are organizers, in our own way.)
February is the time to stay inside and rethink the resolutions we made more than a month ago.  Haven't kept with yours?  According to an article I recently read in The Independent, January 12 was the day most of us gave up.
Why, you may ask?  In my opinion, our goals are too big, and generally unattainable.  "I'm getting my WHOLE HOUSE cleaned up TODAY!"  Is just not usually going to happen. So, today, our focus is on SMALL places we can get organized in one Saturday afternoon.  Such as, your pantry.
The pantry is by far the "closet" we use the most.  We are in there between three and ten times a day!  Per person in our house!  How much time can we save just by making our pantry so it's easier to find things, our food is stored in a way that keeps it fresh.  So, this month, with every purchase of organizing hours, you'll receive your choice of jars or containers to help get your pantry working for YOU!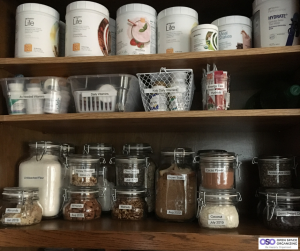 Tags:
glass jars
,
home
,
kitchen
,
minimalist
,
organize
,
organizer
,
pantry
,
simple