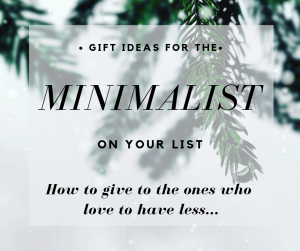 What do you give the person who wants LESS in their home?  Here are five ideas to get you started!  Comment below with more!
 Massage, hair cut or mani/pedi. Who doesn't love a little pampering!  Most of us – moms especially – don't make time for self-care. Help mom out this year and let her relax!
 Food or wine.  Friend have a favorite wine or snack from that specialty shop that's a little far from them?  Pop in and grab their most loved flavors – maybe they'll even share!
 Passes or tickets to the museum, aquarium, zoo, gym or a show!  Doesn't take up any space and the memories last forever!
 Gift card to a local restaurant, or even better – Target or the grocery store!  Every minimalist loves simplicity and taking one item off their list – paying for groceries – is something everyone can enjoy.
 Baked goods – made by YOU!  Not so much a baker?  That's ok! Find a small local bakery and ask them to make something special and one of a kind for your loved one to enjoy.