10 home office organizing tips!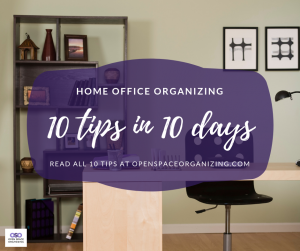 Purge paper into the system of three: shred/toss, file or take action.
Put into use a color coded filing system. Here's how we like to do it:
Green – Financial
Red – Medical
Orange – Personal
Yellow – Insurance
Blue – House
Create a Mail Station. In order to maintain control of the paper coming into the home office, create a mail station. Make a folder for incoming and outgoing mail, mail to file, bills and a folder for every family member. As soon as the mail comes in, file it in the mail station. Then once a week, take a few minutes and go through each folder.
Printing station – space for printer and supplies to live
Store in containers – office have lots of little things like paperclips, tape, staples, etc. They are easier to find when they're in their own container, inside a drawer or box.
Use a label maker! Because, you all know my love for labels, it makes it simple to find what you need, and put it back when you're finished.
Categorize:

Stickies (sticky notes, tabs, stickers, etc.)
Tools (straight cutter, staple, staple remover, hole puncher)
Budget (checkbook, calculator, bill calendar)
Writing Tools (markers, pens, pencils)
Mail (envelopes, stamps, address labels)
Labeling (labeler and label tape)

Organize books: keep books so you can easily find them. Sort by color, title, author, or subject. It's your library – you get to choose!
Life binders: grab-and-go in case of emergency:
Medical
Pet
Auto
Manuals
House
Personal
Wall space: hang filing systems, whiteboards, calendars, shelving, etc. save space by going vertical!!
Tags:
home
,
illinois
,
minimalist
,
office
,
organize
,
organizer
,
organizing
,
simple
,
tips
,
wheaton