From Open Space Organizing, we wish you the Happiest of Holidays!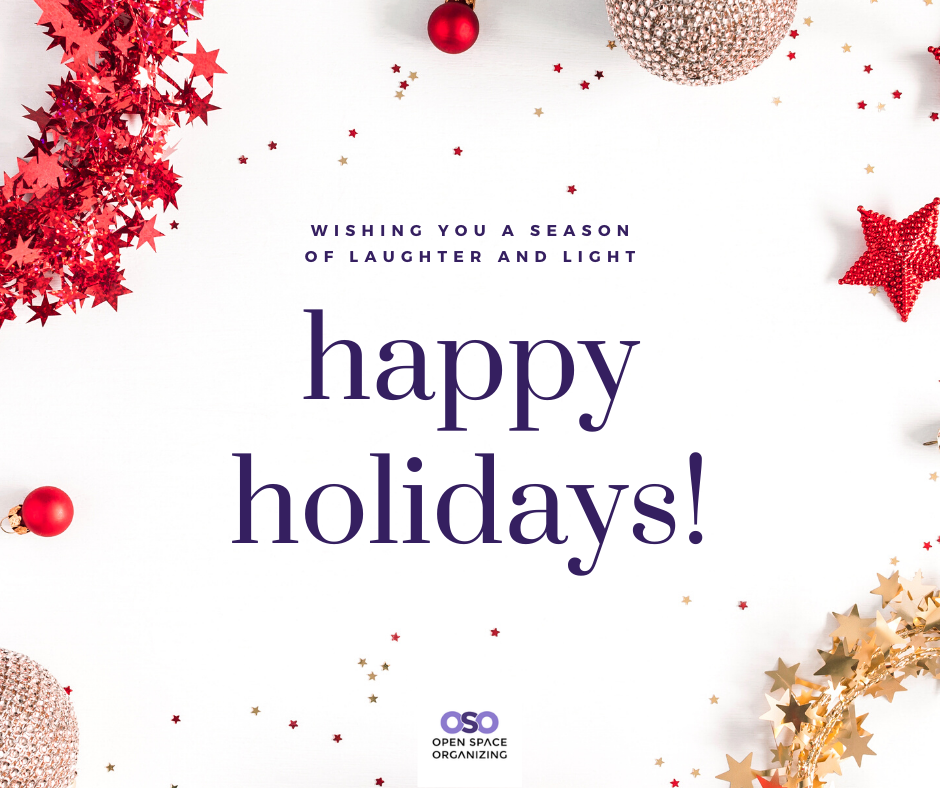 As the holidays are officially upon us now, we want to be aware of what we are gifting. Many Americans feel pressure to give many gift items, and spend over their budget. We are here to remind you that love, care and generosity can come in many packages! Those packages don't always have to contain a thing.
The gift of an experience, such as the holiday lights at a nearby park or arboretum – or even a drive or walk through your very own neighborhood! @Geekdad has a fantastic list of gifts for kids in their article here: "The 5 Best Gifts of All Time". Just to forewarn you, one of them is dirt and another, a stick! It's a great read, not to be missed!
Making gifts meaningful by adding engraving to an everyday object makes something used daily a little more special.
This year, my family is doing a "gift-away" instead of a grab-bag by bringing donations for a local shelter. Companies like Heifer International will use your donation to give a giving animal (like a sheep for the wool, a cow or goat for the milk or a chicken for the eggs) to a family in need overseas. It's a wonderful company and I've "given" in my mother's name a few years in a row now.
From all of us at OSO, we hope you have a safe and enjoyable holiday!
Keep it Organized!
OSO December Special – The Gift of Organizing!
Buy organizing for yourself or a loved one this year!
* One size fits all
* Perfect for the person who has "everything" (and doesn't know quite what to do with it all)
* Won't add clutter to your space
December Special – Buy 5 Hours, Get 2 Free! Special price $497. Hours can be used until Dec 2020.
Use organizing hours to…
*Clear out the garage
*Organize the basement
*Tackle the toy room
*Get the guest room guest ready
*Or reclaim any room in your home
Take advantage of the December Special today!
630-453-2582