Open Space Organizing
OSO adapts to COVID-19 and Shelter in Place Guidelines
OSO remains open for business and is actively adjusting to continue to deliver organizing services in these unprecedented time. We are currently offering Virtual Organizing through Zoom, including consultation and assessment to address the organizing needs and challenges of Working From Home and Home Schooling. As the reopening of businesses continues to progress we will also offer in-person services as able while following all CDC guidelines using social distancing and the use of masks and gloves to keep you, your family and our team safe. Remember you don't have to manage this alone, we are happy to help!
Take advantage of our special pricing for Virtual Organizing – $50/hour!
Everyone has some degree of clutter in their lives. In our fast-paced, consumer-driven society, more and more "stuff" accumulates quickly and soon it takes over. Even the most organized person can become overwhelmed, especially if there is a shift in your life balance, such as a new job, baby, project, new home, death in the family, or other life changing situation that can present unexpected challenges.
Many of us need assistance getting started, making decisions, reorganizing, and creating organizational systems that last. Open Space Organizing helps you do just that to live a more stress-free life.
The initial visit allows us to meet you and see your spaces. After an assessment, we help you define what you want from your space, develop a plan and establish dates to begin working together. We provide emotional and physical support for those tough decisions such as what items should be kept, tossed, donated or recycled.
Open Space Organizing will help you create a relaxed, orderly atmosphere. Whether you're downsizing, moving, or simply want to regain control of your home environment, now's the time.
Organizing Packages
Get Started
$90/hour
When you buy
3-9
Hours
Best Value
$80/hour
When you buy
20+
Hours
Savings
$85/hour
When you buy
10-19
hours
We are a member of the National Association of Professional Organizers (NAPO) and the Chicago chapter.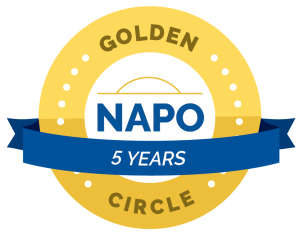 Catherine Feltz 630-453-2582 is a first-rate Wheaton, Illinois professional organizer on FindMyOrganizer.com!