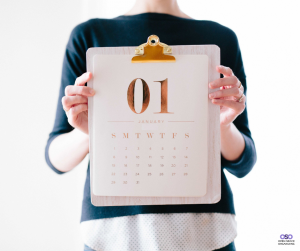 If you're looking to turn over a new leaf in 2019, you're not alone!  More than half of all Americans report having a New Year's resolution, and 2019 will be no different!  The most highly sought after resolutions are usually in bettering yourself and your surroundings! Better self-care (eating right, exercising, and getting your home or office space in order) is at the top of the list year after year.  
Among the self-care topics, losing weight can be the most troublesome!  Why not lose 50 pounds in an afternoon! How? Decluttering your space! What a perfect way to start off the new year – with a clean, organized home or office!  The freedom that comes from being able to quickly and easily find what you're looking for, the ability to move through your home with ease, or use that table, desk or room without moving a pile first.  These are skills and I can show you how to acquire them!
Getting organized THIS MONTH will feel like such a weight lifted off of your shoulders, and it will prepare you to get going on another resolution!  Get ready to knock 2019 out of the park! I can't wait to get you started!
Give the gift of space to yourself or a loved one!
Organizing is the perfect gift because…
One size fits all!
You never have to dust it!
It won't clutter up your space!
FREE LABEL MAKER with every purchase in January!
Contact Cathy today for more info!
cathy@openspaceorganizing.com