Have you fallen out of love with your space? Are things looking tired, shabby, or dingy? Have you been neglecting your space, not giving it the time and attention it needs? If you answered yes to any of these questions, then this is the month to recommit to falling in love with your space again!
Regardless of how cozy or sweeping your space is, February is the perfect month to assess, declutter, donate, rearrange, and breathe some new life into your space. Bring back the spark you've been missing.
Sounds great – but now you're wondering … Where to start? How do you begin to rekindle the spark?
Here are a few tips to get started.
Evaluate – What's in the way of falling in love
Falling in love with your space again means taking the time to evaluate the state of your space. Go through your home room-by-room with new eyes, like it's the first time you're seeing it. When entering each room pause and take in the furniture, artwork, rugs, decor, and window treatments, plus anything hiding in plain sight.
Ask yourself:
What makes me smile?
What makes me wonder, why do I still have this?
How does each thing make me feel?
How would my space be different if it only contained items I loved and that made me light up?
Consider moving out what no longer makes you happy. Consider the items that do make you happy and make those the focal point of each room.
What's hiding in that drawer or behind that door?
Falling in love again with your space means being fearless and looking into those dark corners! Drawers and closets are iconic dumping grounds for items we don't have a place for. Things get "put away" with the intention of dealing with them later. Even if no one sees it, you know it's there. To rekindle the love in your home, it's time to face those hidden areas.
Once out of sight, more often than not, we forget about them completely. We have grand ideas for saving things for some unknown future event. Now is the time to bring those items into the light and decide if they should stay or go.
Break up with your clutter! 
When you walk into a room and feel it's overcrowded, overwhelming and you've been avoiding it, that's a good indication that it's time to take stock and make changes. Surrounding yourself with items that add value to your life and allow you to love your space is important.
If you don't love it, let it go. Clutter can hold you back and prevent new energy and creativity from entering your home.
It's well documented that clutter has a negative impact on our physical and emotional health. Living with clutter can even leave you more prone to developing diabetes and heart disease.¹ February is the month of love, so take care of your space and your heart by breaking up with your clutter.
Donating items that no longer serve you is a great way to declutter your place. Not only are you clearing out unneeded items, but you're also doing good for your community. In the words of Marie Kondo, "By acknowledging their contribution and letting them go with gratitude, you will be able to truly put the things you own, and your life, in order."
Clean Out Your Closet – Not your Heart
We all have items from family members and loved ones who are no longer with us. Having too many of those things is one way clutter can creep in.
Often there are feelings of anxiety, guilt, and regret because these items carry memories and emotions with them. It's time to be honest with yourself about why you're holding on. Grieving your loss, saying goodbye and letting the items go can help bring healing. You'll always carry that memory with you where it's most important – in your heart and mind.
Where Should You Start?
Think about where you spend most of your time relaxing and unwinding and start there.
Does meal prep and cooking help you decompress from your day?
Is the chair in the living room your favorite place to escape in a book?
Is falling asleep in bed while watching a show what you look forward to most each day?
Whatever space allows you to wind down is the best place to start.
Remind yourself of when you were smitten with this room. It made you smile when you walked in, you were happy to spend time there. When you looked around the room, you were happy you painted the walls that color, the bookshelf couldn't fit more perfectly on that wall. Take a good look around again and start small. Go through that pile of mail. Clear off the coffee table. Fold the clothes laying on the floor. Small, manageable steps will pay off in the end.
What Do You Love?
There are small changes that can refresh your space and give it a facelift. What color lifts your spirits? What pattern brings out your happiness? Below are some ideas of items to make your room the apple of your eye once again.
Living Room Love
New picture frames
Throw Pillows
Rearrange a bookshelf
Small rug or area rug
Bathroom Love
Different color or pattern hand (and/or bath) towels
Shower curtain
Rug
Baskets or bins for organizing
Bedroom Love
Bed sheets – pattern or solid, colorful
Comforter or blanket
Decorative pillow
Lamp
Kitchen Love
Kitchen towels
Anti-fatigue rug in front of the sink and/or stove
Contact paper in drawers or cabinets
Any Room
Plants or fresh flowers
New, fresh wall color
Drapes/curtains
Shelving
Art
Of course, some of these are a little more costly in terms of both time and money, but not all ideas have to be a grand gesture. Switching photos, blankets, candles, nicknacks (tchotchkes), and art between rooms can be enough of a change to make you crush on your room again.
I Will Always Love You
Whether Whitney Houston gives you all the feels, or Marvin Gaye's "Ain't No Mountain High Enough" is more your style, you and your home are now ready to spend lots of quality time together. Hopefully, this rekindled relationship won't cause any jealousy with your friends!
Jump in and make home your favorite place to relax, renew and revive.
Need help falling in love with your space again?
Call OSO at 630-453-2582 and take advantage of our February Special – A Container Store Gift Card (value $45) when you book 5 hours or more! Because who doesn't love the Container Store?!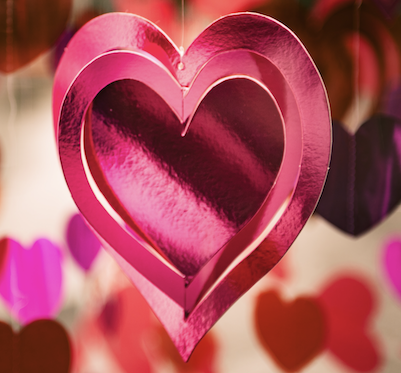 Sources:
¹ https://www1.racgp.org.au/newsgp/clinical/what-does-clutter-do-to-your-brain-and-body